Thinking of Renovating Your Home? Go with a company you can TRUST
Granite countertops have become so popular that granite has become a commodity. Certainly, granite countertops are one of the smartest and most exciting choices a consumer can make, provided a very important point is kept in perspective: Granite may be a commodity but the proven ability to deliver complete solutions, meticulous quality, and unrivaled customer service is not.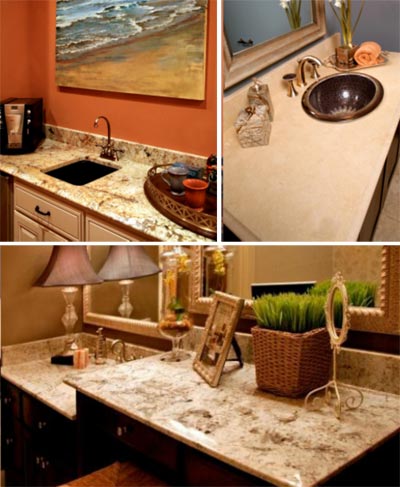 You're not simply buying material. You're buying the company's ability to lead you through an important series of choices and decisions that will make the critical difference in the finished quality of your project and, ultimately, the value you receive for every dollar you invest. You need a knowledgeable, experienced and reliable resource that is committed to leading and supporting you through each step of your renovation project. Here's what to look for:
Does the company specialize in granite countertops or are they just a "big-box" retailer or pickup truck proprietor selling countertops to be made by someone else, somewhere else? There is no substitute for dealing directly with LOCAL experts who DESIGN, FABRICATE and INSTALL comprehensive custom solutions. Creating beautiful results that deliver true value to be enjoyed over a lifetime is not work for "arms-length" vendors.
Does the company own a showroom with a large selection of stone, tile, sinks, related materials and accessories? Be wary of anyone who doesn't actually own a showroom. Do they truly have the resources, experience, product knowledge and skill to guide you through the maze of decisions that differentiate a great result from a major disappointment?
Does the company employ knowledgeable sales people who impart product, design and process knowledge versus making you ask all the questions? You should ask for a process guide in writing.
Does the company own a state-of-the-art manufacturing facility? Although minor, on-site adjustments and finishing touches are not uncommon, high quality results require a properly equipped manufacturing facility. Also, be especially wary of vendors using standardized, pre-cut pieces of natural stone. Every project is unique and a cookie cutter approach will simply not compare to the beauty and quality of work that is tailored to your unique specifications.
Does the company have designers, dedicated project management teams, qualified stone artisans and fabricators, and licensed, multi-discipline remodeling and installation teams on staff? Are they capable of handling every aspect of your project from design to installation? (That's called "soup to nuts" or "turnkey" and eliminates finger pointing across a cadre of sub-contractors.)
Does the company have an established reputation? Ask for a list of more than 3 client referrals and call them.