Our Edge Treatments
We offer a wide selection of standard, premium and exclusive granite edge choices. Just like each stone has a unique look, from casual to formal or sophisticated to "hip", edges should be chosen in relation to the overall visual result intended. Some edges lend themselves more to casual styles, others are more formal or more contemporary.
Unlike many of our competitors, we polish under a section of your counter tops. See and feel the difference. In addition to selecting an edge to match the decor, we always recommend that our customers weigh other lifestyle factors when making this decision.
These Upgraded Edge Choices are STANDARD for us = FREE UPGRADES!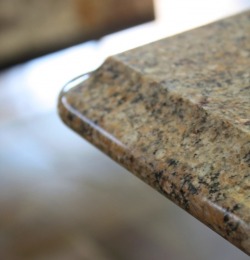 The Ogee Edge
offers depth, elegance, and drama by including a small divet within the edge. Traditionally a more expensive choice, this edge is a standard choice.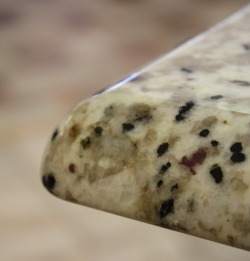 The Demi Edge
is by far our most popular edge. It looks great on every stone and allows the stone to show movement over the edge. The Demi also makes the stone appear thicker.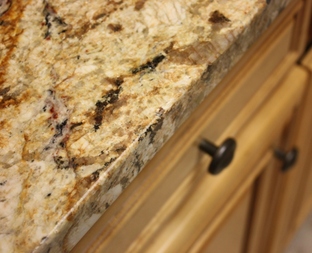 Eased/Straight Edge:
A very common edge is the eased edge, sometimes called a straight edge. It has a square, boxy appearance, and no embellishments are cut into the granite. With the straight edge, the entire countertop is squared with everything meeting at right angles.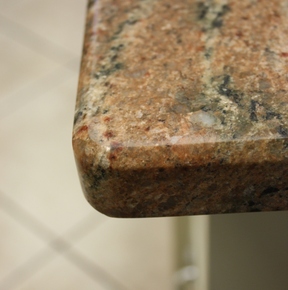 Beveled Edges:
Many individuals like the look of beveled countertop edges, where the edges of the countertop are carved into 30 to 45 degree angles all the way around the countertop.
Full Bullnose:
A full bullnose is rounded from the top rollover all the way back to the cabinet on the top and bottom of the granite edge in a sideways "U" shape. *We also offer a Half Bullnose Edge but most clients will choose the Demi over the Half because of the curve.
Upgraded Edges for Designer Looks – Ideal for Kitchen Islands or Vanities